"Hotel Senlīči" reservation rules
Check-in from 14:00
Check-out until 12:00

Cancellation must be notified no later than 24 hours before the check-in time, in this case, no fee is charged for one night.

Booking 3 or more nights we offer a discount!

Number of persons per room – specific to each room
Extra beds are available for 12 EUR per day (during the winter season) and for 15 EUR per day (during summer season).

Extra bed or children's bed is available upon request and must be confirmed with the guest house.

Pets are not allowed, exceptions may be accepted for certain cases and must be agreed upon in advance.

Summer season:

June

– September.
Winter season: January – May/ October – December.


Possibilities, Hotel Senlīči
Room -WC, shower, TV, wi-fi

The area – garden, terrace, parking, adjacent children's attraction area

Activities – outing by boat, fishing, and possibility to ride a bicycle

Food & Drink -Available kitchen, breakfast, lunch, and dinner at the adjacent cafe – restaurant "Zemnieka cienasts" from 8AM to 8PM.

Free Internet! Wireless internet is available in the hotel rooms and is free of charge.

Free Parking! Free private parking is available in the adjacent territory (reservation is not needed).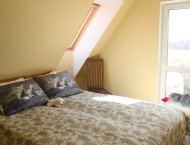 Room has two separate rooms. Bedroom with a double bed, armchair in the front room and you can add two additional places if you come with small children. Room has a bath. Room has a views to the south and the river.
Price    65 EUR    during summer season 70 EUR